How To Play Great Golf When You Have To Rush To The Tee Or Can't Hit The Range
Unlike the tour players, most of us don't have the time to properly warm up and prep for a round of golf.
But all is not lost when you pick a few of these tips you see in the video below and put into action 3 minutes before you tee off, you won't have to waste the first few holes "loosening up" or "finding your swing"
So…
What should you do if you have no time to practice?
Are you often rushing to golf?
Do you wish you could warm up for the first hole?
Learn how here;
It's hard to play good golf when you are late, cold and had no time to iron out some swing wrinkles before you tee off.
But if you use these, you will thank me. So try and use some of these body drills, chipping and putting feels and practice swing with purpose you can if you use some or all of this 3 minute routine, still play great golf.
How To Play Great When You Have To Rush To The First Tee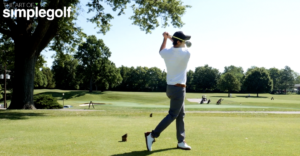 See this video from Alex Fortey and The Art Of Simple Golf showing you how easy it can be to have good golf swing consistency and have a reliable golf swing that is more instinct and natural than complicated thoughts.
Too many swing positions kills your chances of golf success, improvement and consistency.
We must do better at realizing what golf is about.
Trust me.. i've been there at it ruined me.. and I still fall prey to i at times with what I do an all…
So this is an important reminder and golf lesson that applies to each and every one of you. https://www.youtube.com/channel/UCUct4nBOq47nXbHtq7p8eUA?sub_confirmation=1