Increase Golf Swing Speed And Improve Sequence: Cross Feet Leverage Drill
This drill to increase golf swing speed will help for more effortless and natural power and consistency delivers.
It does those things in part because it improves the golf swing sequence but not forcing it to be unnatural.
Alex Fortey from the art of simple golf gives you a simple golf tip to improve your address position and posture to have a better golf swing.
One of my nicest drills that I can give you to feel a comfortable amount of resistance and wind up which we do want for more speed is actually just crossing the feet over.
This drill is just a small example of the effectiveness that constructive and progressive golf practice drills that you can do no matter your level or goals. If you are senior golfer or an aspiring young golfer wanting to compete against Rory Mcilroy  you need to be conscious of what you spent your practice time, if any on.
When this lesson is put into practice and done in order and in combination with other simple golf principles, it will yield some great results not just in the distances that you can hit the ball but also the accuracy and consistency in which you can do it.
Now… If you want more…
You can add 10+ MPH to your swing speed (and have you effortlessly hitting 20… 30… even 40 yards further depending on your age, willingness and desire…)
Without hiring an expensive coach…
And without spending months – or years – trying to 'perfect' it.
Without using a swing trainer…
Without completely "re-working" your swing…
I call it the Swing Speed System… and here's exactly what it can do for you.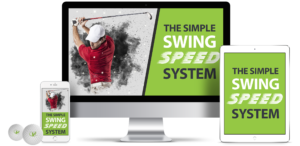 -~-~~-~~~-~~-~-