Experience the Art of Simple Golf Digest – Unlock Micro-Lessons Directly to Your Inbox!
Experience the Art of Simple Golf Digest – Unlock Micro-Lessons Directly to Your Inbox!
This is a newsletter, well more than a newsletter really…. lessons, videos, advice, thoughts, practice games etc…. delivered straight to your inbox (less than a sleeve of balls a month btw).
We go into into hyper focused training on a specific topic that I have either been requested or perhaps a pattern emerging from questions from you as a member.
Each week the goal is to take your focus onto a specific area of the game or swing, share some news, insights, special member pricing and offers, interviews and point you in the direction of a program or lessons that can be utilized further. 
It's here you will also get lessons that can only be found in our members content or produced exclusively for our Club Digest.
All for just $9.99 month and no contract!
PLUS YOU GET 30 DAY 100% MONEY BACK GUARANTEE SO THERE"S NOTHING TO LOSE
Elevate your golf game with our exclusive delivery of bite-sized content right to your inbox. We specialize in providing concise, easy-to-understand lessons that can be immediately applied into your golf game.. Prepare to witness a remarkable transformation in your golf skills as you embrace our implementable strategies.
Don't miss out on this opportunity to revolutionize your golfing experience. Subscribe now and start reaping the benefits of our Micro-Lessons today!
Any of these sound familiar?
OR Is This You?

"Half the time I'm doing fine…until I get into a bunker and I have no confidence I will get out let alone close."
"There is so much information online that it gets overwhelming. I don't know who to listen to."
"I am finding it very hard to understand some of the golf tips online. I enjoy watching them, but they are causing more confusion than helping me."
"I avoid using certain clubs because I'm not sure what I am going to get from it from day to day. My 5 iron literally terrifies me."
"I can't keep my drives in the fairway. I am all over the place. I watch golf tips online all the time and it only seems to make my swing worse."
"I had trouble with my driver all day yesterday. My warm up at the range was fine but as soon as I got on the course I struggled to apply what I was doing on the range during the round"
If this resonates with you, rest assured that you're in good company. The AOSG Digest is dedicated to assisting you in progressing from your current level of play to grasping straightforward, practical lessons that genuinely contribute to your growth and fuel your enthusiasm to continue playing.
The Most Effective Way to Learn (but You Weren't Taught It in School) is small micro bite sized pieces of content that laser focused for a short period of time.
The Most Effective Way to Learn (but You Weren't Taught It in School) is small micro bite sized pieces of content that laser focused for a short period of time.
Unlocking the Most Powerful Learning Technique (That School Never Taught You)
The key to effective learning lies in embracing small, bite-sized pieces of laser-focused content for short durations.
Reflecting on our traditional education system, we've always adhered to dividing our day into fixed time blocks dedicated to different subjects. Science, math, gym, and the like—each allotted a specific slot. When the bell rang, we transitioned from one subject to another.
On the surface, this approach seems reasonable enough, aiding in maintaining order and assisting teachers in planning their schedules. However, experts have uncovered a not-so-insignificant flaw with this method of organizing learning: It steers us away from the most efficient study technique.
Enter micro-learning; A superior approach to learning.
Research indicates that if we truly desire to retain new information, the optimal way to study is what we refer to as "microlearning." This means that to master a new concept, your best strategy is to devote concentrated effort for a short period of time, take a break, and then revisit the material, spreading intense bursts of learning over an extended duration.
Consider the sheer volume of content being uploaded on a daily basis.
Every day, over 720,000 HOURS of new content are added to YouTube alone. Let that sink in.
It's humanly impossible to keep up.
You simply cannot—let me reiterate—consume such an overwhelming amount of content on the golf swing and expect to improve miraculously. If that were the case, everyone would be consistently shooting below 80. (Currently, only 26 percent of all golfers consistently shoot below 90 on regulation 18-hole courses, while 45 percent average more than 100 strokes per round.)
In my personal experience teaching lessons in person or online, I've observed that the best results for students stem from simplifying ONE idea. It should be presented in a bite-sized and easily digestible format, encouraging immediate implementation.
By embracing the power of micro-learning, we can unlock our full potential as learners, absorbing knowledge effectively and maximizing our growth.
If you're a golfer who has become frustrated with all the complicated swing thoughts and overly complex movements and drills that you've been taught, I can help. You don't have to feel overwhelmed by all the information and techniques that you've been told you must execute perfectly to play the game well.
There is a simpler way.
We can help you simplify your approach to the game and get back to the basics of what really matters. With my guidance, you can let go of the cluttered thoughts and focus on what truly matters in your swing.
So why not take the first step towards a simpler, more enjoyable golf game today? Let me help you unlock your true potential and rediscover the joy of golf.
HI! MY NAME IS ALEX FORTEY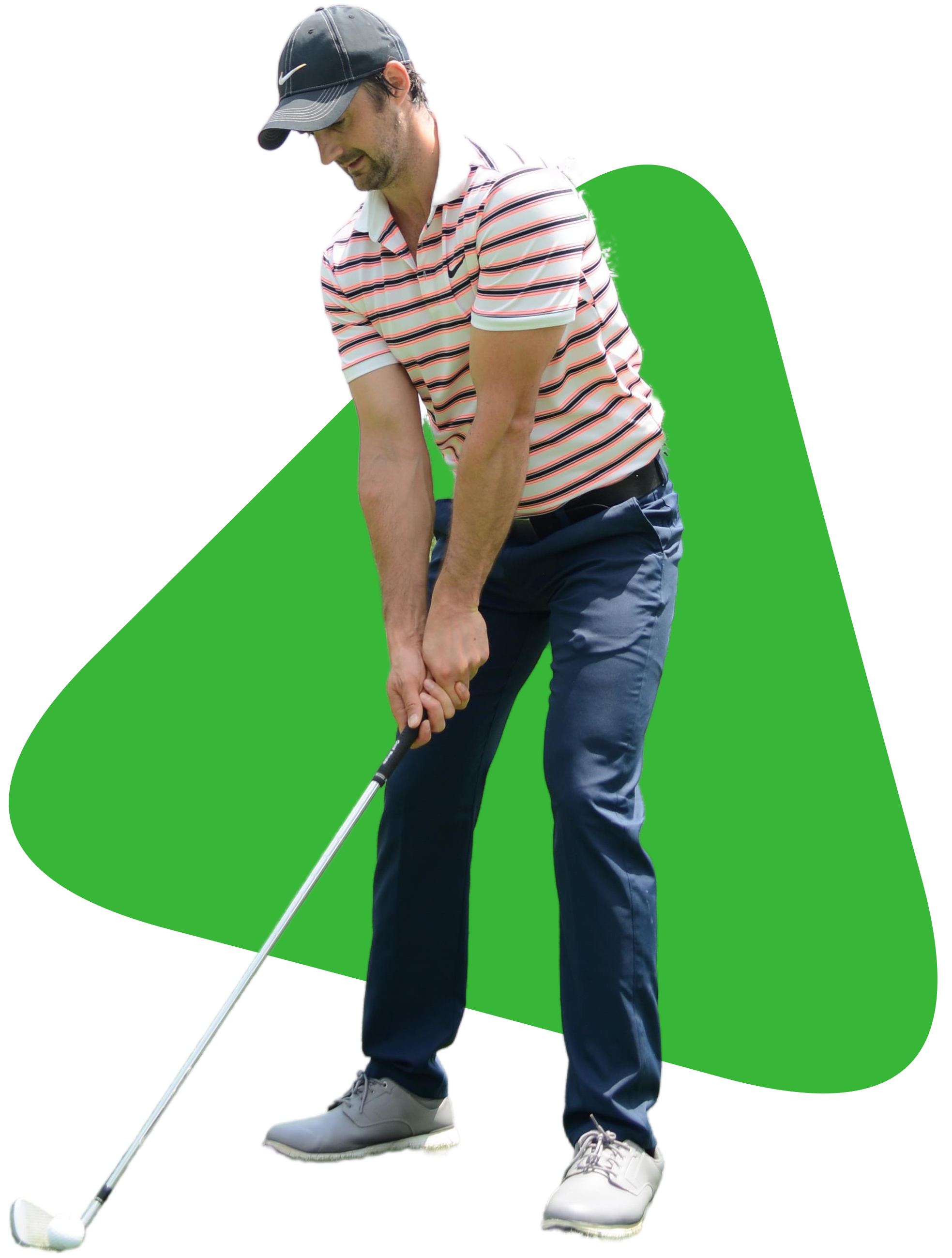 WHY LISTEN TO THE ART OF SIMPLE GOLF?
So, a little bit more about me, My Name is Alex Fortey (I won't go into the whole life story just yet). Chances are you've seen some of my lesson on Youtube or online and the instruction, insights and tips have resonated with you.
I am SO determined to fight the noise and nonsense of confusion fired at you from all angles and that is why The Art of Simple Golf is here. 
But why listen to me?
I Coach Golfers from Elite to weekend warriors alike.

Tens of thousands of golfers of all levels have benefited from our programs.

With almost 40 million views across YouTube, Facebook and Instagram, our message of SIMPLE golf get's around.

I've spent years coaching and training golfers of all levels across the globe.

I know what it takes to produce a simple golf swing that feels natural, effortless and repeatable for consistent distances (my comfortable clubhead speed with my driver is 120+ mph).

I have been an elite level player, coached golfers from juniors to professionals, from college players to weekend warriors, and worked with some of the finest golfing brains in the World.

Improve as you get older
So What Do You Get in The AOSG Digest
So What Do You Get in The AOSG Digest

What I am going to give you is what I would give you if we were standing on the golf course together.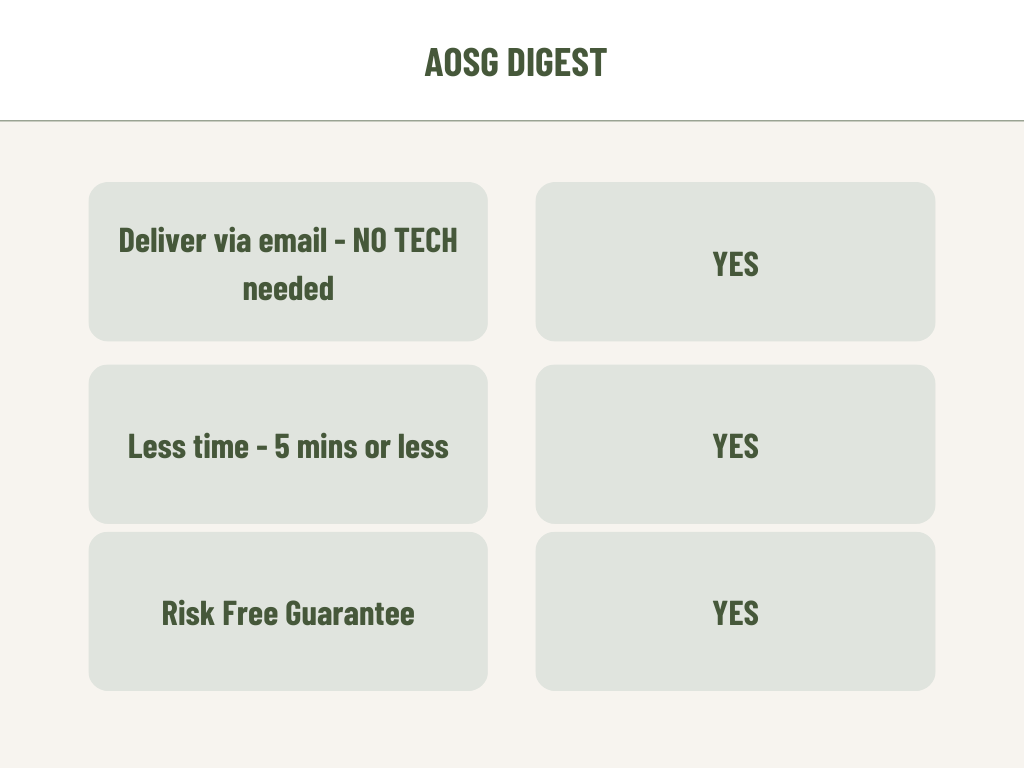 Micro Learning: This AOSG Digest utilizes a micro-learning approach, which means that it offers bite-sized and concise golf swing tips. This format allows users to easily grasp and absorb the information without feeling overwhelmed.

Convenience: By providing golf swing tips in a compact and accessible format, this product offers convenience to users. They can access the tips anytime, anywhere, whether they are on the golf course or at home, allowing them to practice and refine their skills whenever they desire.

Easy to Follow: The tips provided by this product are presented in a clear and easy-to-understand manner. They are designed to be user-friendly, ensuring that golfers of all skill levels can easily grasp the concepts and apply them to their own swing.

Continuous Improvement: With regular use of this product and its golf swing tips, users can expect to see continuous improvement in their swing technique. By incorporating the suggested tips into their practice sessions, they can refine their skills over time and enhance their overall performance on the golf course.

Time-Saving: The micro-learning approach of this product saves time for users by delivering concise and effective golf swing tips. Instead of searching through lengthy instructional materials or attending time-consuming lessons, users can quickly access the tips they need and focus on practicing their swing.

Enhances Confidence: By incorporating the golf swing tips provided by this product, users can gain confidence in their abilities. As they see improvements in their swing and witness the positive results on the golf course, their confidence will grow, leading to a more enjoyable and rewarding golfing experience.
Yes!

I'm ready to receive simple tips, focussed lessons to my inbox each week and to be part of The Art of Simple Golf Community

THIS SERIES IS COVERED BY MY 100% MONEY-BACK, SATISFACTION GUARANTEE!
Here it is:
Take the entire course…all of it. And then, after all that, if you don't start shooting the scores you want and feel like you own a game you love, then let me know and I'll give you an immediate and full refund.

No questions asked.
I'm happy to do it because I'm 100% confident that if you go all-in during the Challenge you'll achieve those outcomes. There has never been anything like it in golf instruction.
So click below and enroll now. You literally have absolutely nothing to lose …and everything to gain.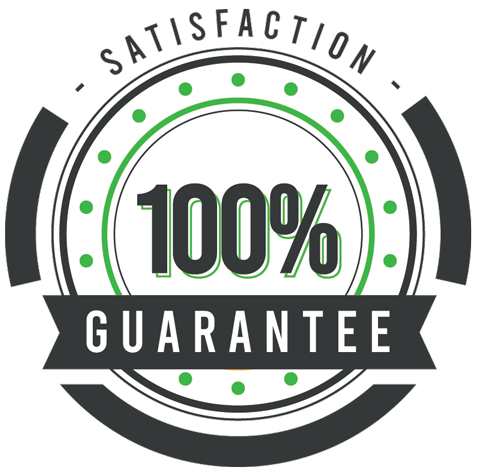 FREQUENTLY ASKED QUESTIONS (FAQS)
Who The Weekly Club Digest Is NOT For…
Who The Weekly Club Digest Is NOT For…
I always like to tell everyone who this is for and NOT for…
– If you are looking for some magic pill that will change your golf game from a 25 handicap to a 2 handicap without any implementation of my lessons…
– If you prefer to bounce around from tip to tip in all areas of your game without knowing if it's applicable to you and if it will actually help.
– You are not willing to focus and spend a little time on one area of your game and a lesson or drill for a few days at a minimum before you move onto the next thing.
– You think you have to copy exactly the best golf tour players in the world to improve your own game.
… then this is definitely not for you.
The Digest includes focused lessons delivered via email into your mailbox so you can consume the simple but powerful content, implement and practice it…
I know your golf game will get better.

$.30 a day. Much less than a cup of coffee.
Stop doing what everyone says you're "supposed" to do. Do something that actually matters – to YOU.
That has with pinpoint precision – Smaller Bite-sized lesson.. Tight training.
What if there was a better way?
A consistent way?
A simpler way?
A more comfortable way to build your golf game.
And – dare I say – a more fun way?
If this sounds familiar, don't worry – you're not alone. The AOSG Digest sole purpose is to help you get from where you are now with your game, to understanding simple actionable lessons that actually help and excite you to keep playing.
So click below and enroll now to
The AOSG Club Digest.
So click below and enroll now to The AOSG Club Digest.

I love The Art of Simple Golf & Alex Fortey.  Alex is so nice and he strives to "uncomplicate" the baffling sport of golf. I had a horrible day of golf yesterday, even though I have been golfing in the 80's most of last year (only my 2nd time out this year). Thinking about my game last night, I concluded I must have been moving my trail shoulder toward the ball and pushing it way too early. The thought occurred to me that I needed to try to hold my shoulder back at the start and drop it under. Then, oila! I see this video clearing everything up. So, I go from considering selling my clubs to not being able to wait until I play again.
DROP RIGHT SHOULDER TOWARD MY RIGHT ANKLE. Sweet!
Thank you

Your club  is awesome its already brought me down from a 14 to a 9. If I can get consistency with my driver I'll blow the field away. My best already a 67 off a 10 handicap.

Applied these simple tips and felt lots better and was hitting through the ball. Clear thoughts about target and less about the mechanics of swinging has given me a lot more accuracy both off the tee and with my irons, thanks fella.

Purchased on Wednesday, played on Friday and shot just 10 over! Normally I'm 15-16 over but the driving was great using these tips and I hit it straighter than normal. Thanks so much"

o I took some of your simple tips out to the course yesterday and was surprised at how much distance i got out of not trying or thinking of positions of the swing. My swing was a lot smoother and i needed little effort to gain more distance and I was a lot more accurate with my shots.  I played several balls with each shot and every time i applied your tips the result was a lot better. I'm currently starting to teach my wife this great game and i will be going down this road for her lessons, as it's a lot easier to learn and a lot less stress on the body… Keep up the great work mate 🙂 Cheers

Dear Alex,  I have been attempting to play Golf for over 55 years and at my best played off 7.  I am currently a very bad 13 struggling to play off 23 !!  However,I wish I had come across your teachings years ago !!  At the moment I am only " Paper Trading " as it were in my back garden,but already I can feel the Potential and really look forward to going firstly to the Driving Range and then The Course in the hope that even at 69 yo I have a chance of playing close to 13 or better.  P.S. I'll let you know how I get on in a month or two ( whether or not you want to !! )

All I can say is I have never struck the ball as solidly time after time with all my different clubs. I only played one round (today) and shot 81 which is about 7 strokes better than my average score. I'm really looking forward to downloading the rest of leries so I can really take them with me to the course.
By the way, I also purchased your "Deadly from 100 Yards" DVD.s about three months ago and love them as well.
Thanks and I look forward to finally breaking 80 consistently

Yesterday I shot 78 which is the first time I have broken 80 since my earlier years playing good golf. My current handicap is 14 but my goal is now to get back to a low single digit which I now firmly believe I can do. Of course I don't play the back tees anymore but still play the men's regular tees so I haven't given in to the "Sr. tees" yet.  This is why what you are doing is so important for golf. Keep it going and I wish you the best of luck.  Thanks.