The Most Important Number In Golf And How You Can Improve On It: Greens In Regulation 
Before we begin on how to hit more GIRS, let's define what it is exactly.
Hitting a green in regulation (GIR) is defined as the following – if any part of your ball is touching the putting surface and the number of strokes taken is at least two fewer than par. 
To put it simply, if you have a birdie putt, you hit a green in regulation. 
https://www.pgatour.com/stats/stat.103.html
Here are the stats for every professional's GIR. As you can see, this is more evidence that the top 2 like Rahm and Colin Morikawa are legends in the making.
You can be too. (To your buddies at your local course at the very least)
The concept is very simple, you are much more likely to par if you're on the green versus if you were in the rough or in the trap.
Let's extrapolate some data.
THE PGA TOUR AVERAGE GIR IS 68.2% WHICH WORKS OUT TO BE ABOUT 12.5 GREENS IN REGULATION PER ROUND.
Put a PGA tour player with 160 yards to the flag and they will only hit the green 69% of the time…
Averaging 27ft from the stick (not exactly peppering the pin is it?)
Get your GIR percentage up and you will improve across the board.
But we also need to find a benchmark for you to excel from…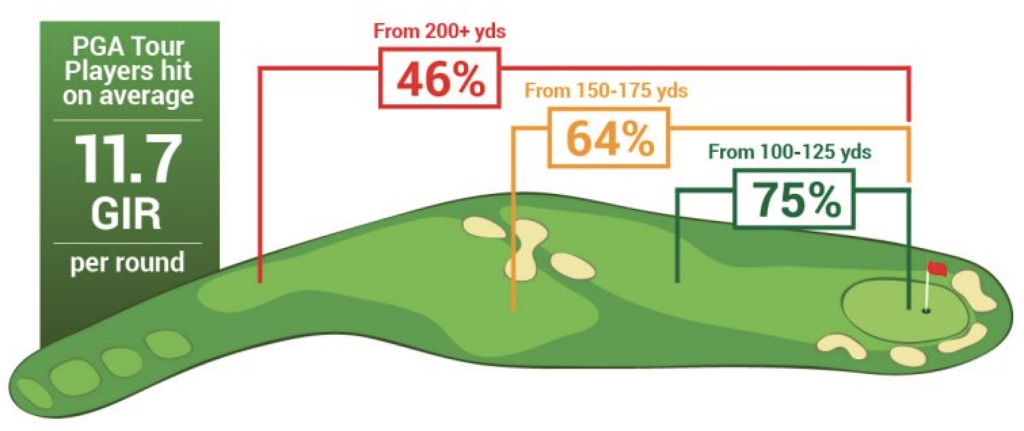 THESE ARE THE STATS FOR THE AVERAGE GOLFER GIR (GREENS IN REGULATION) ACCORDING TO ARCCOS SHOT TRACKING SOFTWARE.
25 or above handicap  you are only going to hit 16% of greens in regulation.
20 handicap – 20.4 %
15 handicap – 25.9 %
10 handicap – 34.6
5 -0 handicap – 45-58%
Now these stats do not take into consideration age or the length/difficulty of the courses played but you get the idea…
You have to be a little kinder to yourself and set realistic goals.
You will see better results because of the reduced pressure and increased confidence.
But we are certainly not going to just accept mediocrity as your fate.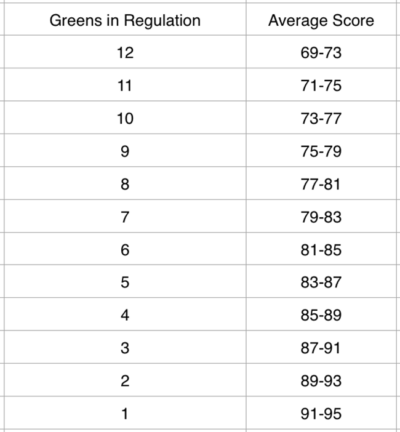 To cut five strokes off of your average score,  a good guide is to average two more GIR per round.
If you currently hit 4 greens in regulation and we increase that amount to 6 or 7, you will drop 5-6 shots per round. 
That's huge.
If you average at the high end of the chart for scoring average and want to cut a couple of strokes, you can indeed do it through the short game. But if you are already scoring as well as you can for your GIR numbers, the only way to lower your average score is to hit more greens
In order to accomplish that increase, you must have the confidence that your approach shot will reach the green. Whether it's 90 yards out or 190 yards out, you have to know what you are doing with every iron.
Now on to the next point…
Let me tell you a story that I think might resonate with you…
There's a golfer who's been playing for over 25 years, his name is Mike.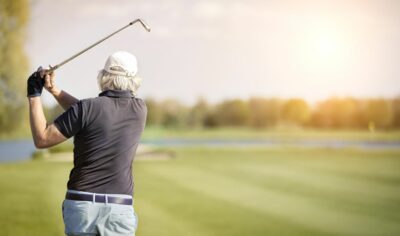 He will shoot between 18 and 25 over most days.
He only uses 4-5 clubs in his bag. When it comes to irons…
He uses his "ol' trusty" 5 iron no matter the distance left to the flag.
He knows he won't reach the pin that's 230 yards away but as he says… "it's better than topping a fairway wood right?"
So yet again he plucks out the 5 iron and moves it 160 yards… 
Better than the 8 iron he chunks too often too…
Why?
Because that's what he's comfortable with.
Humans tend to stick with what is comfortable regardless of whether it benefits them or not.
Don't be afraid or let's call it lazy like Mike.
If he knew how to approach iron pay, the game and his swing differently… then decided to put in the work with his other irons, his score would improve drastically.
But Mike, like the majority of golfers don't realize quite how much it will.
"In order to play like a champion (or even improve where you are at right now), you must THINK like a champion"
Anyone who has real, long term and consistent success on the golf course isn't thinking " I hope I hit it far with my tee shot so I don't have to use my 5 iron".
If you are lining up your shot and feel a lingering sense of uncertainty, replacing that feeling with confidence would make a WORLD of difference.
This is Golf. Simplified.
Alex Fortey
P.S. Keep your eyes peeled because i'm going to show you how to get consistency and confidence breakthrough… Just look out for the next installment of this iron series!